This archive of our old website provides access to reviews and features not copied to our new website. Some of the information contained on this website may now be out of date.
To view the latest information from The Organ please
visit our current website at theorganmag.com
.

FAQ
Many people find our website while looking for the answers to common questions. We've gathered together answers to the questions we are most frequently asked. Please note that while this advice is given in good faith, we can't guarantee its accuracy.
General Questions
Questions about The Organ website
What is a pipe organ?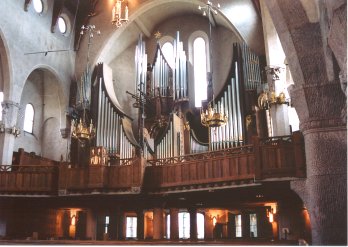 The pipe organ is the biggest musical instrument that exists. Behind the fa?ades of even the smallest pipe organ are hundreds or even thousands of pipes making different sounds at different pitches. Small pipes make high sounds and large pipes make lower sounds. An organist plays all these pipes from one or more keyboards, and uses stops to control which sets of pipes make the sound. Organs also have a big keyboard for the feet called a pedalboard. Sometimes an organist will use lots of stops to create grand and thrilling music, and other times they will use just a few stops to create a calm and sweet atmosphere. Pipe organs are often associated with churches and cathedrals, but can also be found in cinemas, theatres, schools, concert halls, castles, houses and even outdoors!
Where can I find out more about pipe organs?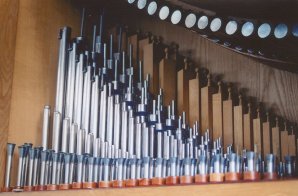 There is lots of information about pipe organs on our website. Try browsing some of the categories in the menu on the left. You might also like to try these web sites:
Return to top of page
Yes! The UK's most comprehensive organ events and concert directory is here on this very web site. It also includes links to other directories in case you can't find what you're looking for.
Can I learn to play the pipe organ?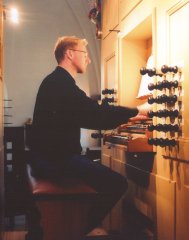 Yes! Most children don't start until their feet can reach the foot pedals, but anyone at any age can start taking lessons. It helps if you have some previous experience of a keyboard instrument like a piano, but some teachers don't even require this.
To find a teacher, try asking at your local church, cathedral or anywhere there is an organist - they might not be able to teach you themselves, but should be able to put you in touch with someone local who can.
There are many different types of electronic organ. Some are designed as substitutes for pipe organs or to practice on at home. These usually have two keyboards with 61 notes each and a pedalboard with 30 or 32 notes. Even old ones are worth something as simple practice instruments. You could try advertising in The Organ's classified section - see our advertising page for more details.
The other, more common type of electronic organ usually has shorter keyboards, often placed asymmetrically, and automatic rhythms. These were popular around the 1960s and 1970s as home music making machines, much like upright pianos had been a few decades before. They are now mostly obsolete, as today's home keyboards can make many more sounds and take up much less space.
Some of these home electronic organs will still have some value, including more recent models and older expensive makes and models such as Hammond or Wersi. You could ask at your local music store, or search the web for your make and model. However, many will be worth very little, as most people no longer want or have room for them. One market they might appeal to with their cheesy rhythms and retro sounds is students, so you could try advertising at your local university. However well kept it is, the average 1970s organ is unfortunately not worth much more than ?25, and you may struggle to give it away.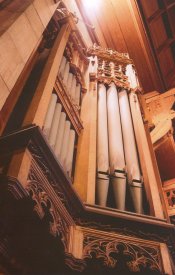 Maybe! Each country has its own funding situation for pipe organs, so some of the advice given here is only relevant to the United Kingdom.
First, you need to find out if your organ is worth restoring. Many are, both on historical and musical grounds, but sometimes an organ is simply worn out or unsuitable for its location. To find out, you need a professional assessment. Anglican churches have Diocesan Organ Advisers whose job it is to offer specialist advice. Some other denominations have similar arrangements. There are also a number of independent advisers, who can help you select an organbuilder to work with. Choose your organbuilders with care - you want to get good quality advice and workmanship, but the biggest names will be more expensive than some lesser-known companies. Many organbuilders have technical accreditation for some aspects of their work, which is worth looking out for. Try to visit similar work completed by the company to see if their clients were happy, and if you would have been happy.
Grants can sometimes be had from the Heritage Lottery fund. Typically these would be for a historically accurate restoration of a significant and largely unaltered instrument. However, for most restorations, the only option is to raise the money through other means. Private charities and other grant-giving bodies rarely give money for pipe organs. If you want to raise money for restoring a pipe organ, it is easiest if you can present the scheme as part of the overall musical life of its community, with concerts and public access to the instrument for practice purposes. Be imaginative in your fund-raising ideas - how about recording a CD, sponsoring pipes or auctioning items such as time at the organ console?
Mistakes do occur - please let us know if you find one. If you think the mistake is a problem with layout rather than a simple typing error, please also include details of what web browser and operating system you are using. The website is tested with Netscape, Internet Explorer and Mozilla Firefox, but is designed to work with all web browsers. Users of older browsers will miss some of the features such as dynamic menus, but the website should still work. If you are able to upgrade, we recommend the latest version of your browser.
I am warned about downloading something from your site.
Users of recent versions of Internet Explorer may be warned about downloading "active content" from our website. The simple answer is that this is just our menu system, and is not harmful. The longer answer is that the companies who make browsers have finally realised that downloading some kinds of active scripts (these are add-ons to web pages that add functionality) or programs can be harmful - some scripts and programs are malicious and could delete files, attempt to make your modem dial premium rate phone numbers or infect you with a virus. Hence downloading of such files and scripts is disabled, and you get a warning message. Unfortunately, as well as blocking malicious programs and scripts, the default settings block most simple harmless scipts, such as the one we use to add submenus to keep our menu tidy. You can allow our script if you want to see submenus, or change to a different browser such as Netscape or Firefox that doesn't need scripts to display submenus.
I have trouble seeing - can I increase the size of the text?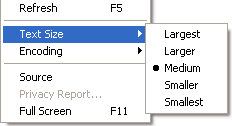 Yes - it's easy. In Netscape or Firefox, hold down Ctrl and press the plus or minus keys to change the size of the text. In Internet Explorer, go to the View menu and look for Text Size. Our menus and other features are designed to change size with the text, so the website should continue to work in your chosen text size. This method will work for other websites, although some may not be designed to make best use of it.
Can you add details of my concert to your events diary?
Probably! If you're advertising an organ concert, please let us know. We only have room to advertise organ concerts in our main events diary, so if your concert is entirely choral or orchestral we wouldn't include it. Please let us know in plenty of time, particularly if you want the concert including in the magazine. Not only does this help us, but more people will see your concert and can plan to attend.
Can you add a link to my website?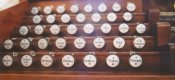 If it is related to pipe organs, then yes. Please send us the link and we will take a look and add it in the appropriate category.
I don't know who I should contact with my query.
Then simply send an email to our office at editor@theorganmag.com and we will work out who should get it.