This archive of our old website provides access to reviews and features not copied to our new website. Some of the information contained on this website may now be out of date.
To view the latest information from The Organ please
visit our current website at theorganmag.com
.

CD Reviews
CDs for review should be sent to the editor, who can be contacted at editor@theorganmag.com. Reviews from previous years can be found in our archives:
2002 CD Reviews . 2003 CD Reviews . 2004 CD Reviews . 2007 CD Reviews . 2008 CD Reviews . 2009 CD Reviews . 2014 CD Reviews . 2015 CD Reviews . 2020 CD Reviews
These reviews are of excellent CDs that wouldn't fit within the confines of the print magazine, but are no less worthy of your enjoyment. Don't miss the new DVD reviews either.
CD Reviews for Issue 394 (Nov 2020) of The Organ
'Baroque Christmas'
Capriccio C5217, 2 discs, 2 hours, 15 minutes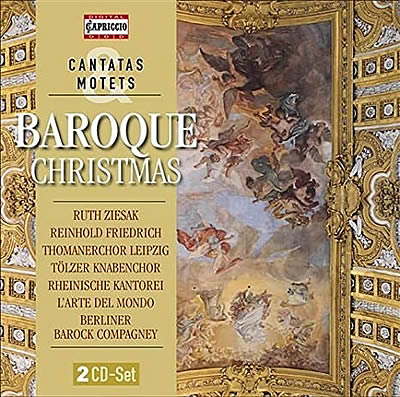 If one ever wondered what might have been heard in Leipzig at Christmastime during the 27 years Bach was Kapellmeister of the Tomaskirche, a compilation – 'Baroque Christmas' – from Capriccio goes no little way to answering the question, for this double-CD set mainly features music by the Master and his sons Wilhelm Friedemann, Johann Christoph Friedrich and Carl Philipp Emanuel, along with music by Johann Christoph Bach, Christian Geist, Buxtehude, Telemann, Fra G.M.Po Del Finale, Nicola Popora and Pál Esterházy.
This wide-ranging collection of quite large-scaled works is worlds away from today's popular concept of 'Christmas Music' as such, although each of the cantatas and motets included is concerned with one aspect or another of the Christmas season, but no-one should miss the outstanding performance of Wilhelm Friedemann's first-rate cantata 'Lasset uns ablegen die Werke der Finsternis' (for the first Sunday in Advent), especially of the large-scale soprano aria 'Vater. Mit Erbarmen' by Barbara Schlick, for it shows WF to have been arguably the finest of all of JSB's sons, as well as the eldest.
This collection of cantatas and motets for the Christmas season is not intended to be played straight off; it is, none the less, a set worth acquiring as a present to oneself. With so many different musicians and ensembles taking part across these two CDs, one may be forgiven for not giving a detailed listing, but amongst those ensembles are the Thomanerchor Leipzig, the Tölzer Knabenchor, Rheinische Kantorei, L'Arte del Mondo and the Berliner Barock Compagney. An important issue, in many ways, most intelligently put together.
---
To see all the reviews in this article, please subscribe to The Organ.