This archive of our old website provides access to reviews and features not copied to our new website. Some of the information contained on this website may now be out of date.
To view the latest information from The Organ please
visit our current website at theorganmag.com
.

The Archive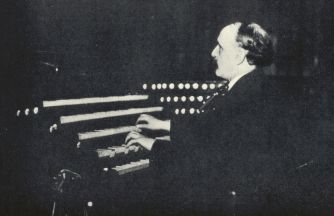 When The Organ was founded in 1921, the world was a very different place. Louis Vierne had returned to Paris and would spend much of the next decade working towards the post-WWI restoration of the organ of Notre-Dame-de-Paris. By 1927, when the photograph (right) was published in The Organ, Vierne had published his famous Fantasies. In England and America, the symphonic organ reigned supreme, with electric action reaching maturity. Over the next few decades, Europe pioneered a return to more classical organs, culminating with the extremes of the neo-Baroque movement. Electric action gave way once more to mechanical, and organ music enthusiastically embraced new forms of composition.
The archives of The Organ give a fascinating insight into this era of change. Many articles were written by experts on both sides of various arguments. The letters pages were once a forum for impassioned debate, now largely superseded by Internet mailing lists and chat groups. A selection of interesting articles from our archive is being added here as time permits. As The Organ World has now been incorporated in The Organ, we also include interesting articles from the archives of Musical Opinion.
Articles
Organs
Miscellanea
The Pyrophone
From the September 1885 edition of Musical Opinion and Trade Review comes this fire-breathing musical instrument.